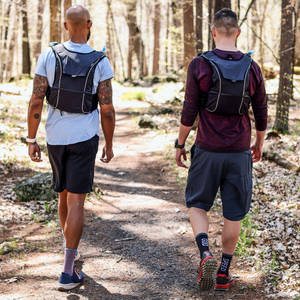 To accelerate clean and safe drinking water for everyone
THE WATER CRISIS IS MASSIVE
771 MILLION PEOPLE
are still living without clean water.
That is roughly 1 in 10 people worldwide.
3.7 MILES
is the average distance people without access to clean water have to walk each day to collect water for their families.
This is often women and children lugging heavy jerry cans filled with water that is dirty and unsafe to drink.
IT'S OUR MISSION TO CHANGE THAT
As a brand, it didn't feel right knowing this while also manufacturing smooth and fast water carrying solutions for athletes. That's why our brand has made it our mission to attack the water crisis with every product that we sell.
HOW WE ATTACK THE WATER CRISIS
WE SELL
We sell innovative, attractive, and smooth hydration packs to runners, bikers, hikers, and outdoor enthusiasts.
WE GIVE
For every pack that we sell, we give 3.7% to charities that bring clean and safe drinking water to those in need.
WE EMPOWER
We empower athletes to be a part of the solution, join our community, and wear a pack they can be proud of.
WHY 3.7%?
3.7 signifies the average number of miles people without access to clean water have to walk each day to get their water.
RUN4WATER
OUR WATER PARTNER
Run4Water is a nonprofit organization that strives to raise awareness and provide solutions to the worldwide water crisis. Founded by decorated ultra-runner and former USA National 24-Hour Running Team member, Greg Armstrong.
PACKS WITH A PURPOSE
DRIVEN BY CLEAN WATER
Access to clean and safe drinking water should be a basic human right. Together, we can make that a reality for everyone.