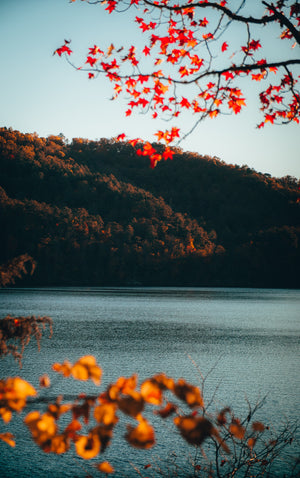 From the hills of Tennessee
In 2019, Drankful was founded with a simple mission.
"To smooth out the
experience of moving with water."
- Ryan Prinzing, Founder
THE LONG RUN BUILDS CHARACTER
I have always had a passion for outdoor sports and adventures. Being out in nature, exploring new paths, and pushing my limits through exercise has transformed me physically, mentally, and spiritually. On days when I'd go the distance, I'd wear a hydration vest to store my valuables, carry extra fuel, and most importantly – stay hydrated.
THE WAY THINGS WERE
But moving around with traditional hydration vests always felt uncomfortable and awkward, especially when pacing through the hills and trails of Tennessee. The annoying slosh sound of the water, the clunky bounce of the reservoir, and the constant rub on my back made the experience of carrying my fluids distracting, irritating, and sometimes painful (hello chafing). It was a source of frustration, but one that eventually led to a solution.
HOW DRANKFUL STARTED
In September of 2019, I decided to take the leap. I started Drankful, LLC out of my little apartment with one goal - design a hydration vest that would smooth out the experience of running with water. The aim was to have it move with you, not against you, and completely eliminate any bounce, slosh, or rub when in motion.
2 YEARS OF DEVELOPMENT
It was then when I started sketching what would become the Drankful Adventure Pack – the flagship product in a collection of innovative packs known as the Drankful Stealth Series. After 2 full years of prototyping, testing, measuring, and receiving various amounts of feedback, I launched a Kickstarter campaign in August of 2021 to finally show my idea to the world.
WE WENT LIVE
Immediately after hitting the launch button, backers from all over the globe pre-ordered the packs, got behind our mission, and provided the validation that this pack was special. This gave us the financial lift to officially start the company without outside investment and become a premium brand in the running space today.
WHERE WE ARE TODAY
It's hard to wrap my head around how quickly we have grown. What started out as a simple idea sketched down on paper, has now turned into a brand dedicated to helping countless endurance athletes in moving more smoothly and comfortably throughout their journey.
ALL BECAUSE OF YOU
Drankful wouldn't be where we are today if it wasn't for the support of our early backers, our current customers, and of course my lovely wife, Shelby, who has been my rock during this whole adventure. I am forever grateful for each and every one of you. You are truly all a gift.
"We at Drankful are proud serve our customers with the best products while encouraging athletes to reach their fitness goals.
Whether you're doing a 1 mile run around the neighborhood or a 100 mile race through winding trails, we'll keep it smooth for you every step of the way."
- Ryan Prinzing, Founder